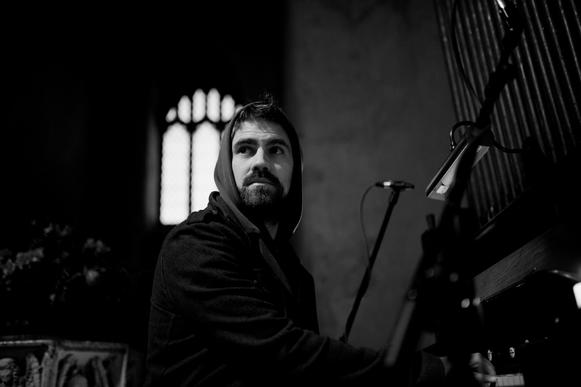 Kit Downes is a BBC Jazz Award winning, Mercury Music Award nominated solo recording artist for ECM Records. He has toured the world playing piano, church organ and harmonium with his own bands ('ENEMY', 'Troyka' and 'Elt') as well as with artists such as Squarepusher, Bill Frisell, 'Empirical', Andrew Cyrille, Sofia Jernberg, Benny Greb, Mica Levi and Sam Amidon.
Kit performs solo pipe organ and solo piano concerts – as well as playing in collaborations with saxophonist Tom Challenger, cellist Lucy Railton, composer Shiva Feshareki, saxophonist Ben van Gelder and with the band 'ENEMY' (with Petter Eldh and James Maddren).
He is also currently working with violinist Aidan O'Rourke, drummer Seb Rochford, composer Max de Wardener and in the organ trio 'Deadeye' with Reinier Baas and Jonas Burgwinkel.
He has written commissions for Cheltenham Music Festival, London Contemporary Orchestra, Biel Organ Festival, Ensemble Klang at ReWire Festival, the Scottish Ensemble, Cologne Philharmonie and the Wellcome Trust. He also performed as part of the National Theatre production of 'Network' from 2017-2018, featuring actor Bryan Cranston.
He has performed solo organ concerts at the Elb Philharmonie in Hamburg, Lausanne Cathedral, Flagey in Brussels, the Royal Albert Hall in London as well as the Southbank Royal Festival Hall, Rochester Jazz Festival (US), St Olafs Minneapolis (US), Stavanger Konserthus, Aarhus Philharmonic Musikhuset, Darmstadt Organ Festival, Stuttgart Organ Festival, Laurenskerke in Rotterdam, Orgelpark in Amsterdam, Kaiser Wilhelm Memorial Church at Berlin Jazz Festival, and the BBC Proms amongst many others.
He holds a fellowship at the Royal Academy of Music in London, where he himself studied and now teaches. He has twice been awarded 1st place in Downbeat's Critics Poll Rising Star for Organ and Keyboard categories respectively, and his ECM records 'Obsidian', 'Dreamlife of Debris' and 'Vermillion' have been released to much critical acclaim.
---
"It testifies to his world-class stature" – The Guardian
"One of the finest pianists of his generation" – Jazzwise
"Considerable chops and flowing imagination" – Downbeat
"An exceptional soloist" – Wormser Zeitung
"Kit Downes is the most impressive jazz pianist from England since John Taylor" – Hamburger Abendblatt